SUMMARY
This report displays the amount of money that your staff has earned based on the class, enrollment, appointment, and hourly rates that you've set up. This report does include assistant pay, but to see a more detailed payroll report for assistants only you can view the Assistants report.
---
CONDITIONS
In order for the Payroll Report to generate figures correctly, it is important to first tell the system what payrates are set for each employee, including back bar charges (when applicable). If you have not yet set this up, please see the links immediately below.
---
CONTENT
Go to the Reports tab and choose Staff from the tabs on the left.
To narrow the list, select Payroll from the filters, and then click Payroll to open the report. You can always use the search bar at the top right to search for Payroll by name, and if it's a report you use often, then consider making it one of your favorites.
Once you find this report, don't forget to tag it as a Favorite report!
1. View: This is serves as multipurpose tool to display payroll information on: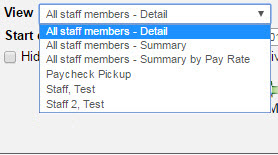 All staff members

- with the ability to sort and view the data in detail, summary, or by the staff member's assigned pay rate

A printable checkoff list

of staff member's names to allow staff members to physically sign and date next to their name, confirming they picked up their paycheck. It's important to file this list away for your records once everyone has signed off the receipt of their paycheck for future reference.

Each individual staff member. 

This is handy if you are just wanting isolate data for a particular staff member.
2. Pay Rates: These are all the pay rates used for workshops/enrollments and teachers. You can run this report to show only one type of pay rate or all types of pay rates. If you are looking at appointment based payroll, skip this filter.
3. Service Categories: Choose which service categories you want to run the report for.
4. Start Date: The beginning of the pay period that this report will display. Please note that the report defaults to the last two weeks-no way to change this.
5. End Date: The end of the pay period that this report will display.
6. Locations: If you use MINDBODY to manage more than one location, then you can choose which business location you want to view payroll, or you can run the report for all locations.
7. Hide client payment info: This filter only applies to staff members instructing classes/workshops AND have percentage pay rates. When checked, this filter will remove information on the report for this type of staff member pertaining to Revenue, Revenue Per Session, & Earnings per client. So, this filter can be handy if you want to simplify the report a little for percentage paid instructors.
8. Include Inactive staff members: If you have ex-employees that you have made inactive, you can check this box and the report will show the payroll due for active and inactive employees.
9. One staff member per page: This checkbox will make the report print a separate page for each one of your staff members.
There are a couple steps that you need to do in order for this checkbox to work:
Check the box next to "One staff member per page"
Click Generate
Click on the print icon
10. Show Comp Details: Check this box to have the report display details for each comped session. By pricing option, the report will display the names of comped clients and the number of visits that were comped. A comp is defined as a visit associated with a pricing option that does not pay the teacher; meaning, "Does teacher get paid for this client?" on the pricing options' setup screen was set to "No." (Note: No show/late cancelled visits are included as a comp visit.)
11. Quick dates: These options affect the start and end date filters. You have the option of quickly skipping through Calendar Months, To-Date or through Rolling Averages on a Year (Y), Quarterly (Q), Monthly (M), Day (D) or specific number of days (365, 90, 30, or 7 days ago) basis.
Select and configure your filters to your needs.
Example: The accountant of a multi-location class based business needs to generate payroll amounts for all staff for the last two week pay period. The accountant wants to see the details of each staff member's payroll in all locations. Therefore, they choose All staff members- detail under the View filter. They select All payrates and All locations filter options, set the start and end date of the payroll period, then, leave the other filters alone. Once the filters are configured the accountant is ready to run the report.
Click
Generate.
After generating the report, contributions from hourly pay, tips, commissions, and for services rendered for each employee will appear.
Depending on the view (detail, summary, or summary by pay rate) chosen, the results will look a bit different, albeit same overall grand total numbers.
A detailed view will show for each individual staff member services performed by service category, which date they were performed, as well as the client name, pay rate, revenue and earnings. For appointment based appointments who are set up for back bar charges, this is where it is easily viewed how the back bar charge affects the employee's earnings.
A summary view is intended to be simplified; a 'just the facts' approach. It will show the name of each instructor, the number of services performed in the time frame, how many clients received services, and the number of comp-ed services. In addition, earnings from performing classes and/or appointments, hourly wages, amount made in tips and total earnings will be listed for each employee.
A summary by pay rate view has almost identical information to the summary view (above), with the exception that it is organized to spell out how much each employee made in each pay rate category assigned. FYI- If your employees have multiple pay rates (i.e. appointment based services) this list can get lengthy.
Additional Tips:
If you prefer more detail on commissions, hourly wage, or tips, then you will want to run their respective reports (Time Clock, Tips, and Commission).
Class names link to their unique sign-in sheets. Ensure that you are not over- or under-compensating staff for class attendance by using these links to access and edit any sign-in sheets in question.
Note: "# Comps" refers to the number of visits associated with a pricing option that does not pay the teacher. If you see data in this column, it means that "Does teacher get paid for this client?" was set to "No" for this pricing option.
Also, No shows/late cancel visits are included under this column.
PRINTING, SAVING AND EXPORTING THE RESULTS
Once the results are generated, the print, save, and export icons provide easy access to setting up a historical record of the results. These icons are located next to the Generate button in the filter box.
The options to export include: excel and pdf files.

The save option will save the results on the main Reports page in you MINDBODY site.

Print will allow you to print the results, and then, manually file it away. 
If you are printing this report from a Mac computer:
When printing the Payroll report from an Apple computer, we recommend exporting the report to PDF. This will format all of the Payroll information that you just generated into a PDF file that can be saved onto your computer. For our clients that use Apple computers and found that printing this report from the Safari browser was causing formatting issues with the right margin, printing directly from the exported PDF will solve this problem.
When a staff is marked as Assistant 1 or Assistant 2, the class will be denoted with the assistant icon. Hovering over the icon will show an explanation of the icon stating that this staff member is an assistant for this class.
The number of clients and number of comps columns will not show a duplicate number, since the instructor for the class will reflect those numbers on their payroll details. For example, this staff member has a "-" indication in both columns, whereas the instructor will show the actual number of clients and comps in that class.
If the "Assistant is paid for by another instructor" option is turned on, then the assistant pay will not display as shown above. Instead, it will show as a deduction from the instructor's pay.
Note: When the "Assistant is paid for by another instructor" option is turned on, the assistant's pay will only appear on the Assistants report.
PERMISSIONS NEEDED TO ACCESS THIS REPORT
To view and run this report, one of the following permissions must be enabled for you or your staff's login group:
Payroll Report/Payroll Export/Tips/Assistant/Commission Reports (All Staff)
Payroll Report/Payroll Export/Tips/Assistant/Commission Reports (Staff can view their own ONLY)
To grant or restrict access to this report, just hit the Home tab and select Staff from the submenu. Choose Tools at the top right and click on Staff Permissions.
Select permission group from the dropdown menu.
Click on Report Permissions.
Check or uncheck the applicable permissions.
Click Update.
---
ADDITIONAL RESOURCES