SUMMARY
If you have forgotten your password, you have the ability to reset your owner password.
---
CONDITIONS
The following information was entered under your "My Account Info" section of your MINDBODY site:
---
ANSWER
If you have forgotten your password, you can follow the steps below to reset your own owner password. 
1. Click on the Forgot Password link in the upper-right log-in area.
2. Enter in your username.
3. Answer the security question(s) that you had previously setup in the My Account Info section.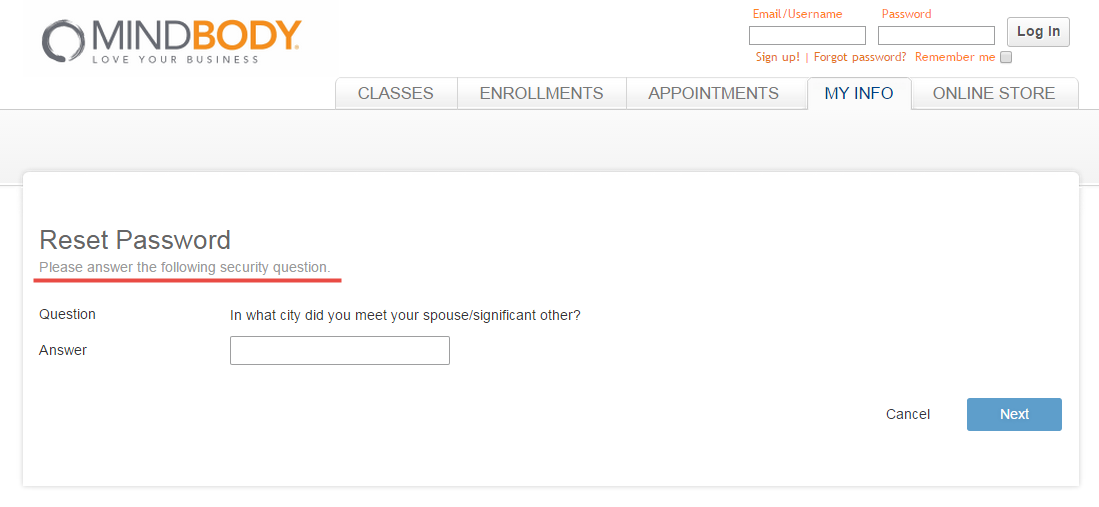 4. If you have your mobile phone number entered in your MINDBODY account information, you will be asked to choose which method of contact you would like to be sent an identification code.
If you select SMS/Text, you will receive the identification number on your mobile phone.
If you do not have a mobile phone number entered, you will automatically be sent an email. Check your personal email inbox.
5. Enter in the code and create a new password.
Your new password must be at least 8 characters long and contain both letters and numbers.
6. You will be sent a Password Reset confirmation email so you know your changes were successful.
Important to note:
*If you have not setup your Password Recovery Questions in your MINDBODY site, please email our Admin Team with the following information:
Email admin@mindbodyonline.com from the personal owner email address that we have on file.
Include the last four digits of the credit card or billing information that we have on file for you. This will be the credit card or bank account that your monthly software subscription fees are withdrawn from.
The answer to the secret question that has been setup on your personal profile (if you have one).
You may call into our Technical Support team 24/7 to get assistance with Password troubleshooting. Our Administration Team is available from 6:00 AM to 6:00 PM PST Monday through Friday. But you can always call 24/7 top access our Technical Support team who can also assist you with password troubleshooting.

US or Canada: 877.755.4279
Canada: 855.852.0418
Australia: 1800.082.989
Austria: 0800297900
Belgium: 0800.261.76
Germany: 08001827256
Ireland: 1800.817.161
Netherlands: 0800.022.0067
New Zealand: 0800.452.950
Spain: 900.838658
Switzerland: 0800820041
UK: 0203.514.1894
Spanish speaking clients: 877.847.4562
---
ADDITIONAL RESOURCES